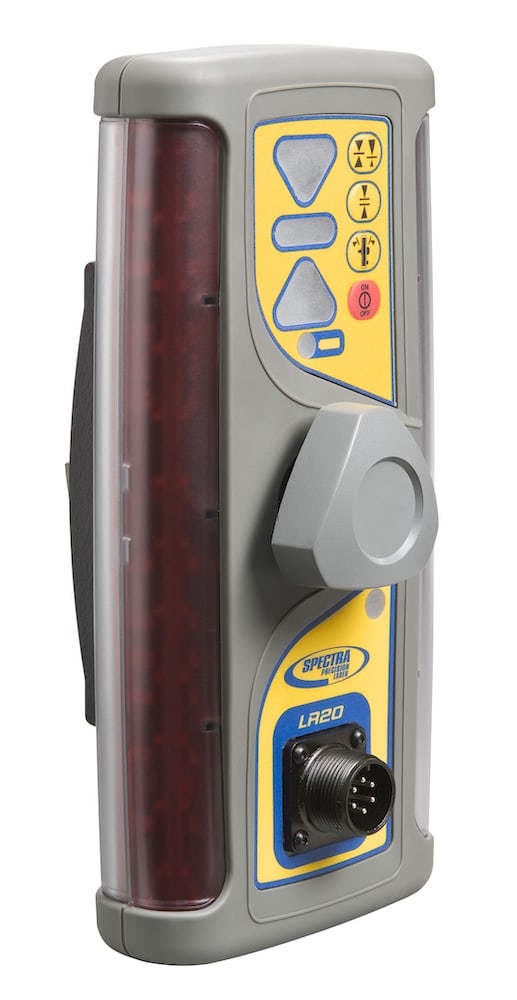 Description
The LR20 Laser Machine Display Receiver is as a standalone display receiver for mini excavators, backhoes and scrapers, skid steer attachments, box blades, pulled scrapers and small dozers. It is powered NiMH batteries and direct machine power.
8-inch, 360-degree laser reception provides large working area and range
Built in plumb indicator for fast, accurate grade checking in mini- excavator applications
Super bright grade display with green "on-grade" LEDs provides superior depth/elevation indication
Push button setup for ease of use and application flexibility
System package with mini magnetic mount fits in compact carrying case for easy storage and transport
Center and offset on-grades are ideal for both grading and excavating applications
Ideal for use on mini-excavators and compact machines.
| | |
| --- | --- |
| Number of Display Channels | 5-Channel Display |
| Accuracy: Center on grade mode (grading) | Fine: 5 mm (0.20 in) Standard: 10 mm (0.40 in) Wide: 20 mm (0.80 in) |
| Accuracy: offset on grade mode (excavating) | Fine: 12 mm (0.50 in) Standard: 25 mm (1.0 in) Wide: 50 mm (2.0 in) |
| Plumb-Swing Accuracy | ± 0.5°, ± 1.5°, ± 2.5° |
| Vertical Reception | 203 mm (8 in) |
| LED Battery Life | 35hrs |
| Receiver Warranty | 2 Years |