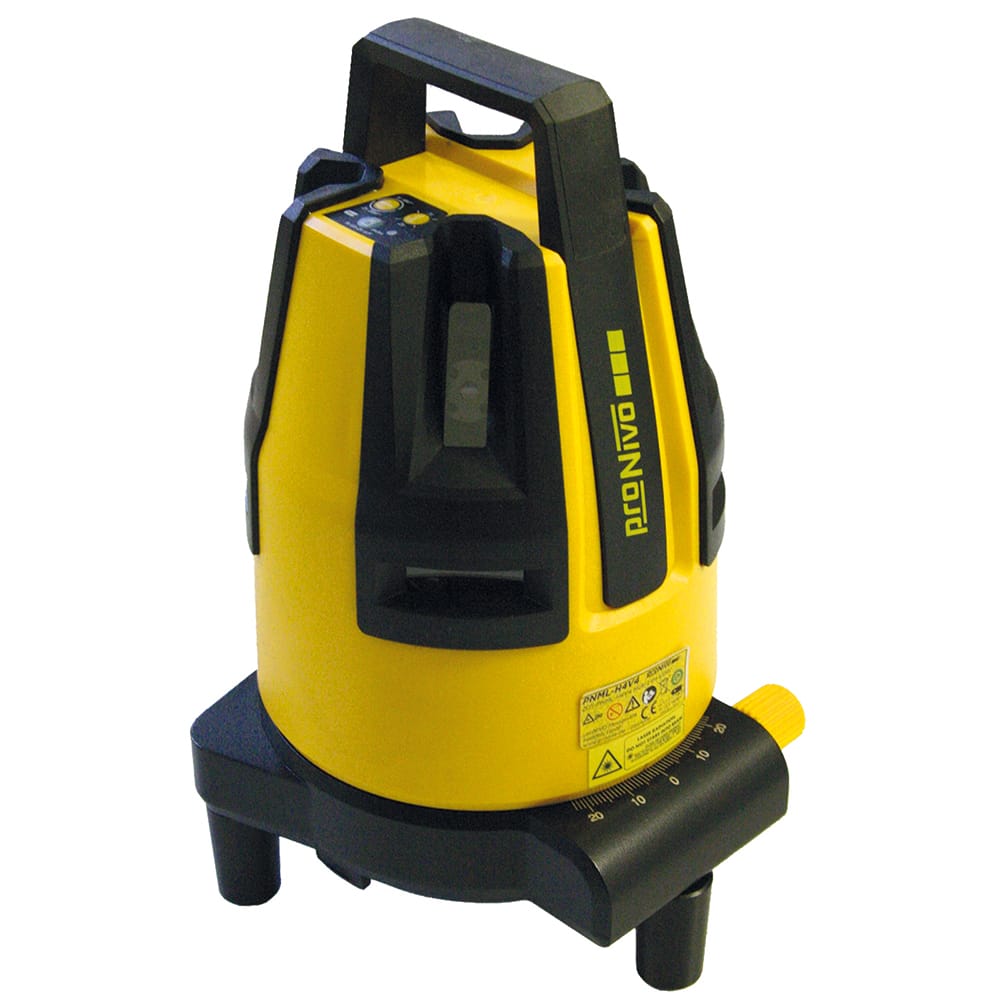 Description
The ProNivo (Germany) is a construction tuff multi-line laser that provides 360 horizontal line, 4 vertical lines plus plum up and down. The ability to sit on the ground or be placed on a tripod provides the flexibility for use both in and outdoors (with the Optional Smart Detector). The H4V4 can also be set in manual mode for matching rake ceilings or uneven floors. This ALL in ONE line laser satisfies the most demanding user.
Self Levelling Automatic laser 5 Lines and one down Dot.
Extremely Robust.
5 Lines all at Rt angles to each other.
Plumb down point
Laser Class 2
Self Levelling range 5 Deg.
One button operation for all functions.
2mm at 10 m accuracy
Working Range 20m
Working Range up to 60m with Optional Smart receiver.
Connects to a 5/8 x 11 tripod
Manual mode for matching slopes, rakes etc.
Red target and built in stand.
Warranty 1 Year.
Interior leveling and plumbing work and small tasks outdoor
90° angle transfer
Drywall applications
Electric installations
Tiling and flooring
All other interior installation tasks
| | |
| --- | --- |
| Leveling accuracy | ± 2,0 mm / 10 m |
| Orthogonal accuracy | ± 30 seconds |
| Plumb point accuracy | ± 4,0 mm / 10 m |
| Self-leveling range | ± 3.5° |
| Working range | 20m (Up to 60 m with detector) |
| Laser class | 2M (635 and 650 nm) |
| Laser lines | 5 |
| Power supply | 4x 1.2V NiMH rechargeable batteries or C batteries |
| Operating time | 10-40 h, depending on activated laser lines |
| Leveling time | 6 seconds maximum |